About Us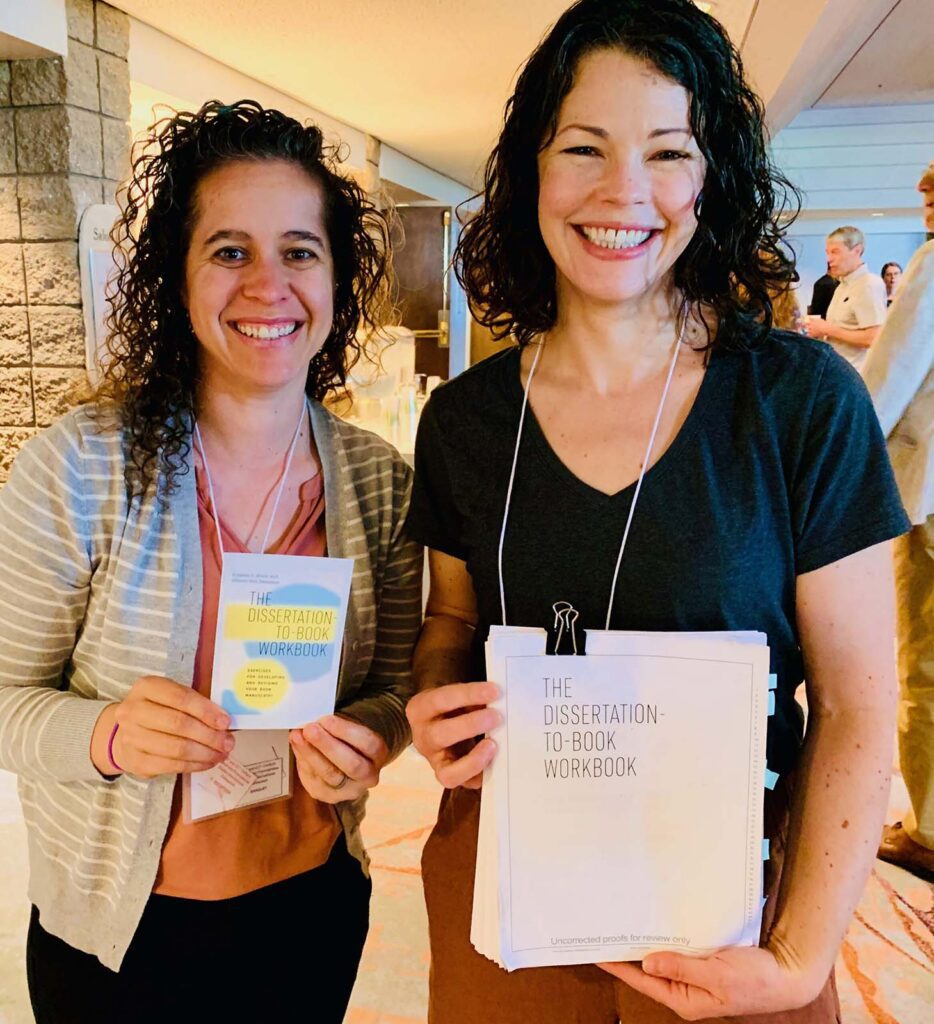 We're Katelyn and Allison, and we have years of experience helping scholars navigate the messy process of writing books. We met in graduate school and became friends and writing partners. Katelyn is an associate professor of French at the University of Central Arkansas, and Allison is a developmental editor who works with academic clients. Based on her experience of writing and publishing her first book with Liverpool University Press, Katelyn created an online curriculum for first-time book authors—what she wished had existed when she was going through the process—and brought Allison on board to help run it as a summer workshop conducted over Zoom.
In the workshop's subsequent iterations, we tested the core exercises with hundreds of projects, brought to us by authors from all kinds of situations and with a wide variety of challenges. Based on what we learned, we repeatedly revised the curriculum. The result is The Dissertation-to-Book Workbook.
The Workbook
You're writing your first academic book. You've read all the advice books; you've written a dissertation; you may even have attended webinars on how to write your proposal and pitch your book to publishers. You know you need to revise what you have. But when you sit down at your desk, what do you actually do?
The Dissertation-to-Book Workbook is the answer. In a series of practical, actionable steps, we show you how to distill your core argument, discover an organizational schema that works, and recognize what each chapter adds to the story. We even give you a method for drafting and revising new material. By the end, you'll have a solid understanding of what you need to prioritize, how to thread your core ideas through each chapter, and what work remains to be done. If you're looking for a way to grasp your book's big picture and use what you learn to guide your revision process, this workbook is for you.
At the heart of this workbook is an unconventional process of developing your book argument using what we call "book questions" and "chapter answers": two or three core questions that receive a one-sentence answer for each chapter. This framework, as you'll see, is a powerful tool for aligning your book's evidence with its claims.
Workshops for Individual Book Authors
In this facilitated workshop, which meets once a week for 6 weeks, we guide participants through Phase I of the Dissertation-to-Book Workbook. The workshop is designed for book authors who want practical steps, expert guidance, and peer support as they dive into the work of drafting a book manuscript. To benefit from the workshop, authors should have some of their ideas (substantial parts of at least 50% of their chapters) down on paper already in the form of dissertation chapters, notes, conference papers, journal articles, and so on. Via conversations and hands-on exercises, participants will evaluate their book's scope and organizing principle, draft answerable research questions, produce chapter snapshots, describe their narrative arc, assemble an argument, identify what to cut and what to keep, and much more. This workshop requires participants to spend about 6 hours per week on writing exercises at their own pace outside the scheduled workshop time.
Other Workshops
We regularly give workshops on various topics related to book project conception, manuscript revision, and book publishing for individual book authors. Enter your email below, and we'll let you know when future registrations open!
Recent Workshop Replays
Learn what really distinguishes a dissertation from a book
Clarify whether and how your book's structure works for its argument
Articulate your book's and chapters' main claims
Prioritize your voice and banish dissertationese
Articulate and sharpen your book's argument
Thread your argument throughout your chapters
Clarify whether and how your book's structure works for its argument
Tweak how you frame your book's argument to generate a narrative arc
Interested in inviting us to your institution or conference? Check out the institutional workshops we offer.
Free Resources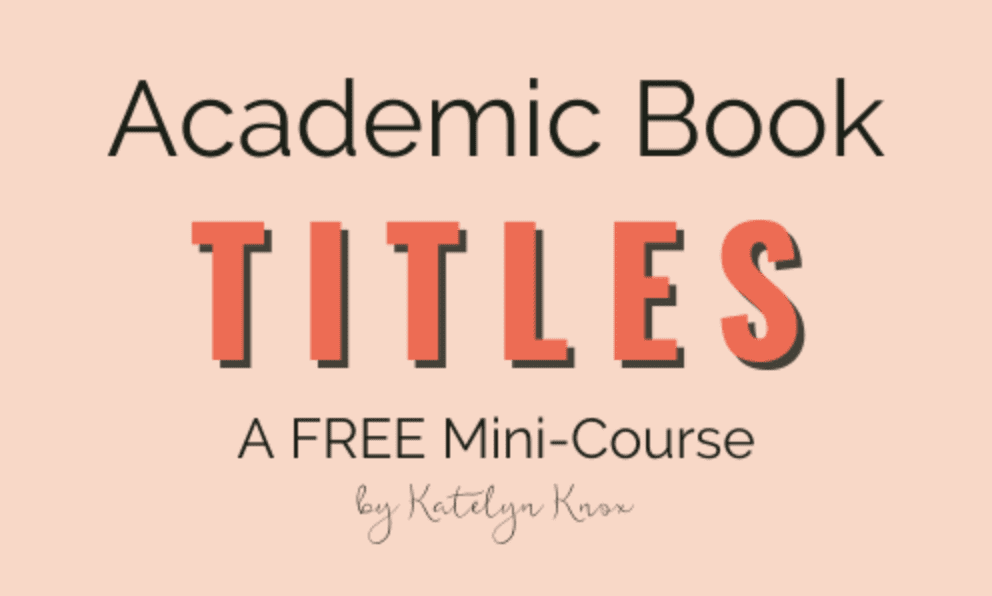 In this free course, I distill lessons from a broad survey of 188 monograph titles. You'll learn:
Exactly how many words your title should be (on average, your title should fit in an extremely narrow range of only 2 words!)
Whether you need to coin a catchphrase for your book's title (and whether your catchphrase actually works as a title)
The specific elements your book title needs to include
How to order all of the elements in your book's title
How to make your book title "search-friendly" (this was something that tripped me up bigtime)
In this round table with series and acquisitions editors, you'll learn:
What, exactly, editors are looking for in a project
The biggest problems editors see in first book projects
How to know whether your book is a good fit for a press
Practical dimensions of talking to editors and ensuring the manuscript aligns with disciplinary expectations
Or, check out our blog post categories or all blog posts.